TOHO merilis video PV untuk mengumumkan bahwa series light novel Otonari no Tenshi-sama ni Itsu no Ma ni ka Dame Ningen ni Sareteita Ken karya Saekisan mendapatkan adaptasi anime.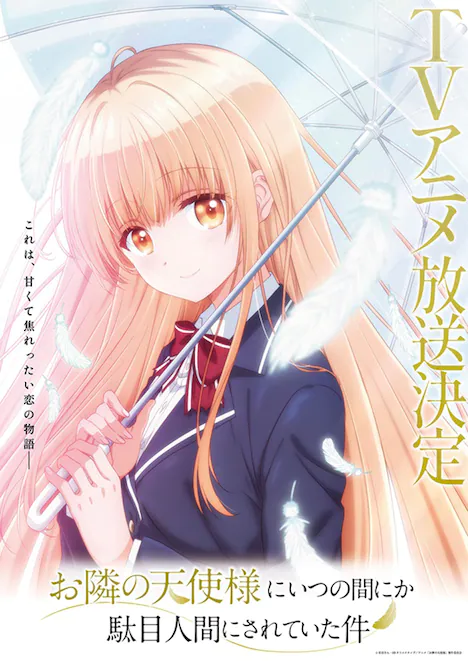 Taito Ban sebagai Amane Fujimiya
Manaka Iwami sebagai Mahiru Shiina
Taku Yashiro sebagai Itsuki Akasawa
Haruka Shiraishi sebagai Chitose Shirakawa
Kenichi Imaizumi (Brynhildr in the Darkness, third Kingdom Season) mengarahkan anime ini ke Project no.9.
Keiichirō Ōchi (Adachi and Shimamura, The Quintessential Quintuplets) bertanggung jawab atas skrip seri.
Takayuki Noguchi (Queen's Blade: Rebellion, Cinderella Nine) bertanggung jawab atas desain karakter.
Moe Hyūga (O Maidens in Your Savage Season, Steins;Gate 0) bertanggung jawab untuk menyusun soundtrack.
Ilustrator dari novel ini yaitu Hanekoto menggambar sebuah art untuk merayakan berita tersebut: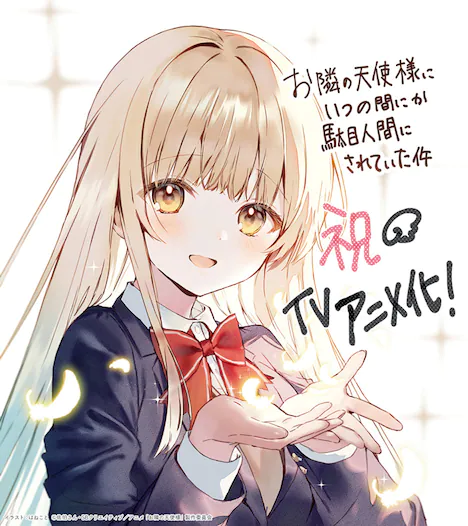 Tetangga dari Amane Fujimiya di apartemen yang ia tinggali adalah malaikat tercinta nomor satu di sekolahnya. Istimewa dan level kecantikannya yang hanya dapat dijelaskan seperti malaikat – Mahiru Shiina. Amane, seorang siswa biasa yang tidak menonjol adalah tetangganya, namun saat ini mereka tidak berinteraksi satu sama lain. Setelah bertemu dengan sang malaikat dalam keadaan basah kuyup:
"Aku mengembalikan apa yang kupinjam. Ngomong-ngomong, bersihkan kamarmu, itu kotor."
"Bukan urusanmu!"
Hubungan dengan malaikat berlidah tajam dimulai dengan pengembalikan payung. Dari terkena demam dan memiliki seseorang yang merawatmu, hingga membuat makanan untuk seseorang karena mereka tidak menjaga kesehatannya, hingga bekerja bersama dalam membersihkan kamar….