Penulis Kakeru Kobashiri mengumumkan di akun Twitter mereka pada hari Rabu bahwa seri novel ringan The Dawn of the Witch (Mahōtsukai Reimeiki) diadaptasi menjadi sebuah anime televisi. Kobashiri tidak mengungkapkan tanggal pemutaran perdana anime tersebut.
Berlatar dunia fantasi yang sama dengan seri novel ringan Kobashiri (Grimoire of Zero) Zero Kara Hajimeru Mahō no Sho. Sekarang damai setelah mengalami konflik antara gereja dan penyihir selama 500 tahun. Namun, bara api masih menyala di beberapa wilayah dunia.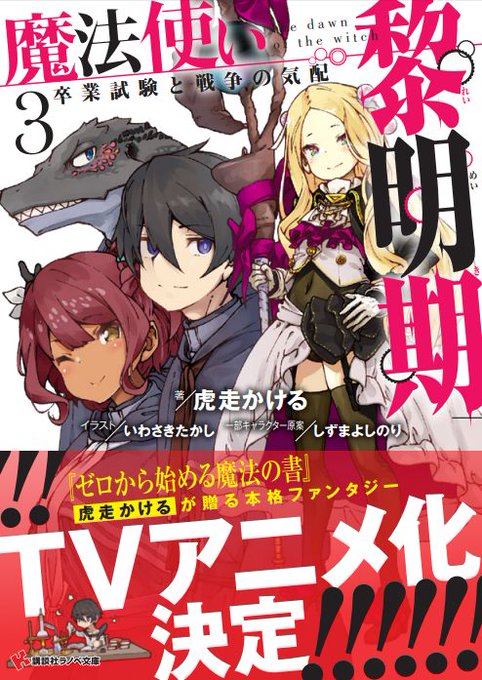 Ceritanya berpusat pada Savil, seorang siswa putus asa di Sekolah Sihir Kerajaan Wenias. Savil entah bagaimana telah kehilangan semua ingatan tentang waktunya sebelum masuk sekolah tersebut. Kepala sekolah Albus mengirimnya untuk pelatihan khusus ke bagian selatan benua, di mana penganiayaan terhadap penyihir semakin kuat.
Kobashiri meluncurkan novel volume pertama pada Agustus 2018. Kodansha akan menerbitkan volume ketiga pada 6 Mei. Kodansha Comics menerbitkan manga secara digital, dan volume kedua dirilis pada 27 April.
Sumber: ANN