Di situs resmi untuk adaptasi anime dari novel ringan yang ditulis oleh Rokujuuyon Okazawa dan diilustrasikan oleh Sage Joh, The Slow Second Life of the Retired Dark Soldier in His 30s (Kaiko sareta Ankoku Heishi (30-dai) no Slow na Second Life), video promosi pertama dari proyek ini diterbitkan. Video tersebut mengungkapkan lebih banyak anggota pengisi suara, mengonfirmasi bahwa tanggal pemutaran perdana dijadwalkan pada 7 Januari 2023 di Jepang, dan menunjukkan cuplikan lagu pembuka berjudul "Changemaker" dan dibawakan oleh Hinano.
Lebih banyak anggota pengisi suara juga terungkap, termasuk
Mai Nakahara sebagai Droyes
Satoshi Tsuruoka sebagai Beseria
Shinnosuke Tachibana sebagai Lizette
Kenji Hamada sebagai Enbil
Keiko Watanabe sebagai Erica
Hiroshi Iwasaki sebagai Smith
Okazawa mulai menerbitkan cerita tersebut melalui layanan independen Shousetsuka ni Narou pada November 2018, dan menyelesaikannya pada Juli 2020. Kodansha mulai diterbitkan di atas kertas pada Agustus 2019, dengan ilustrasi oleh Sage Joh. Adaptasi manga oleh Rurekuchie telah diterbitkan di Majalah Muda Kodansha pada tanggal 3sejak Agustus 2019.
Pengisi suara
Tomokazu Sugita sebagai Dariel
Akane Fujita sebagai Marika
Atsushi Abe sebagai Bashvaza
Tetsuya Kakihara sebagai Gashita
Rumi Okubo sebagai Zeviantes
Akaki Kito sebagai Lady
Tim produksi
Fumitoshi Oizaki (Acchi Kocchi, Romeo x Juliet, Ao no Kanata no Four Rhythm) menyutradarai anime ini di Encourage Films.
Hitomi Amemiya (Astarotte no Omocha!, Tokyo Majin Gakuen Kenpucho: Tou, Merc Storia: Mukiryoku no Shounen to Bin no Naka no Shoujo) bertanggung jawab untuk menulis dan mengawasi naskah.
Reimi Yonezawa bertanggung jawab atas desain karakter dan arahan animasi.
Tsubasa Itou (Putri Terhubung! Re:Dive, Gaikotsu Kishi-sama, Tadaima Isekai e Odekakechuu, Iwa Kakeru!: Sport Climbing Girls) bertanggung jawab atas komposisi soundtrack.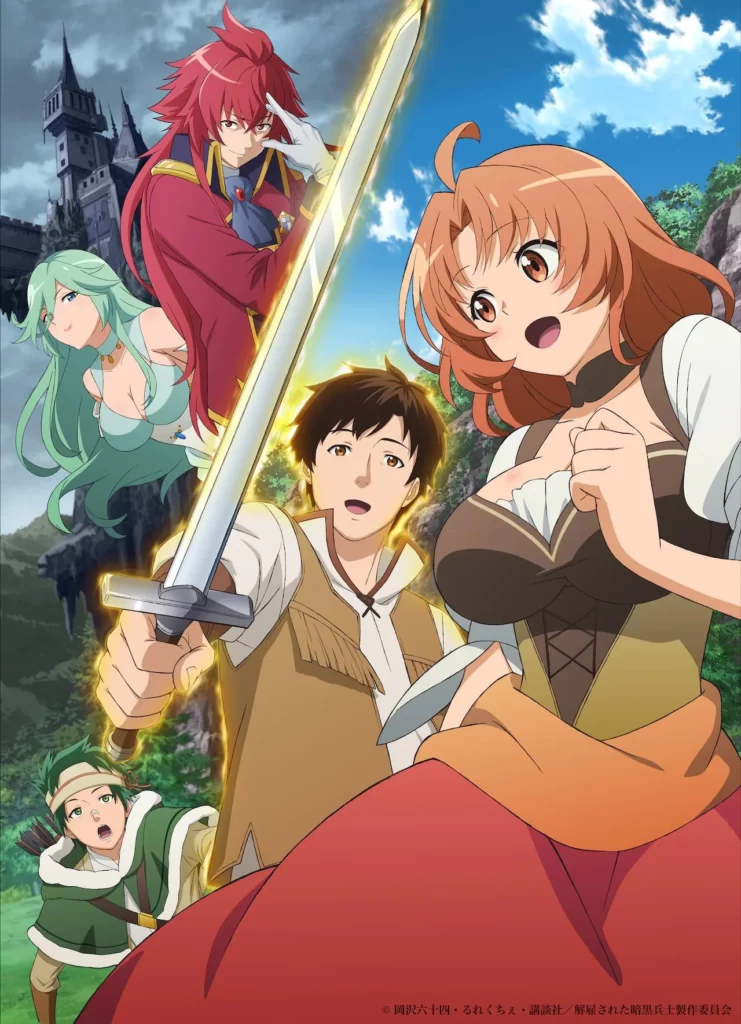 Sinopsis The Slow Second Life of the Retired Dark Soldier in His 30s
Dariel, seorang prajurit gelap dari pasukan raja iblis yang tidak dapat menggunakan sihir, telah naik ke posisi ajudan Empat Jenderal berkat bakat dan energinya, dan telah melatih kemampuannya. Namun, begitu Empat Jenderal diganti, Dariel dipecat dari ketentaraan. Dariel hancur, tetapi ketika dia tiba di sebuah desa manusia, dia menemukan bahwa keterampilan petualangnya, yang seharusnya tidak berguna bagi iblis, telah berkembang! "Saya adalah … manusia?" Dariel memutuskan untuk menghabiskan kehidupan keduanya di desa ini, dan permintaan mulai menghujani! Urusan! Tuduhan palsu! Duel! Dengan kemampuan alaminya dan kekuatan penyesuaian yang dia kembangkan di tempat sebelumnya, prajurit gelap kuno itu menyelesaikan semuanya!