The Animator Dormitory Project menjalankan saluran YouTube, yang secara teratur membagikan informasi tentang masalah para pekerja di industri anime. Video terbaru mengungkap pendapatan animator baru di tahun 2019, yang merupakan tahun pertama mereka aktif di industri.
Pendapatan total mereka untuk tahun itu adalah 668.000 yen (US $ 6.000), setara dengan rata-rata bulanan 74.000 yen (US $ 670). Menurut grafik di bawah ini, penghasilan per bulan tidak konsisten, jarang mencapai di atas beberapa ratus dolar AS per bulan.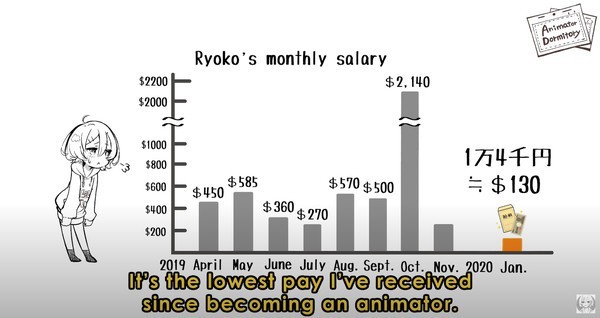 Pada Januari 2020, mereka memperoleh 14.000 yen (US $ 130), yang merupakan bayaran terendah sejak menjadi animator. Mereka menjelaskan bahwa salah satu alasan rendahnya penghasilan mereka di bulan Januari adalah karena mereka mengambil cuti untuk berkumpul bersama keluarga.
Pembayaran untuk proyek-proyek besar dapat ditransfer beberapa bulan setelah pekerjaan itu diterima. "Bahkan dengan menabung, sulit untuk memenuhi kebutuhan seperti ini," terang mereka. Itulah sebabnya freelancer harus memperhitungkan hal ini ketika memutuskan pekerjaan mana yang akan diambil."
Para animator tahun pertama menghasilkan pendapatan yang jauh di bawah rata-rata bahkan di antara anggota muda industri anime lainnya. Menurut survei Japan Animation Creators Association (JAniCA) pada tahun 2019,pendapatan tahunan rata-rata kaum muda berusia antara 20 hingga 24 tahun di industri anime adalah 1.550.000 yen (US $ 14.000).
Angka ini kurang dari 1 juta yen dari rata-rata nasional untuk kelompok usia tersebut, menurut data dari Badan Pajak Nasional Jepang. The Animator Dormitory adalah asrama yang berlokasi di Tokyo untuk animator baru yang dioperasikan oleh organisasi nirlaba, Animator Supporters. Pada tahun 2020 sejauh ini telah mengumpulkan US $ 24.783.
Sumber: ANN